How to Increase Website Traffic: 10 Tips to Follow
A Blog Dedicated to Inform & Educate The Local Business Owner
To increase website traffic, it's important to understand how people find and use the internet.
Many methods and techniques can improve website traffic organically, while others improve it inorganically. As with anything, some methods work better or have a greater impact than others.
This blog post will discuss some of the best ways to increase website traffic. We'll also provide tips on improving your website ranking on search engine results pages (SERPs).
10 Ways To Increase Website Traffic
1. Write Compelling Meta Descriptions
One of the best ways to increase your website traffic organically is by writing compelling meta descriptions. Having a strong meta description can differentiate between a click and a glance. This short paragraph tells potential visitors about your page and can be extremely valuable in driving traffic to your site.
Unfortunately, many site owners either leave their meta descriptions blank or stuff them with keywords in an attempt to game the system. Neither of these approaches is effective.
A good meta description should be concise, accurate, and written for humans. It should also include relevant keywords, but these should be used judiciously – too many keywords will make your description appear spammy and could hurt your click-through rate.
Remember, the goal of your meta description is to convince someone to visit your site – so make it compelling!
2. Optimize Your Title Tags
A title tag is the HTML element that defines the title of a web page. Title tags are displayed on search engine results pages (SERPs) as the clickable headline for a given result and are important for usability and SEO.
The title tag on the SERP is usually accompanied by the meta description, which summarizes the page's content.
Optimizing your title tags for both searchers and search engines can help you earn more clicks and boost your traffic levels.
When optimizing your title tags, it's important to keep two audiences in mind: searchers and search engines. For searchers, your title tags must reflect your page's topic and be interesting enough to entice them to click through.
At the same time, however, you also need to ensure that your titles are optimized for search engines so that they're more likely to appear higher up in the SERP. This can be accomplished by including relevant keywords in your titles without making them sound unnatural or forced.
Keeping both audiences in mind when crafting your title tags can help ensure that more people will find and click through to your website from the search results.
Optimizing your title tags is a simple and effective way to boost traffic levels.
3. Publish Long-Form, High-Quality Content
One of the best ways to drive traffic to your website is by publishing long-form, high-quality content.
Blogging is very beneficial as it is more likely to rank highly in the search results, and people are likelier to click through it from the SERP.
In addition, longer pieces of content tend to be shared more often on social media, which can also help boost your traffic levels.
Getting started can be challenging if you're not used to writing long-form content.
Breaking down your content into smaller sections with subheadings is a good start. This will make it easier to organize your thoughts and keep your piece on track.
In addition, be sure to include plenty of external and internal links, images, infographics, and videos to break up the text and keep readers engaged.
4. Create a Diverse Backlink Profile
Backlinks are one of the most important ranking factors for SEO, so it's important to ensure that your website has a diverse backlink profile.
A backlink is simply a link from one website to another, and they're important because they help search engines understand the quality and relevancy of your site. In general, the more high-quality backlinks you have pointing to your website, the better your chances are of ranking highly in the search results.
There are a few different ways to build backlinks to your website.
One approach is to reach out to other websites in your niche and ask if they're interested in linking to your site.
You can also submit guest posts to other websites with links to your site included in the author byline.
Finally, you can create helpful resources on your website (such as infographics, ebooks, and whitepapers) and promote them on social media and other websites to encourage people to link to them.
5. Implement Schema Markup
Schema markup is a code you can add to your website to help search engines understand your content better. This type of code gives search engines specific information about your website and its content, which can be used to improve your site's search engine optimization. Implementing schema markup on your website can help you earn higher click-through rates from the SERP, as your listings will stand out more than your competitors.
You'll need to edit your site's code to add schema markup to your website.
Fortunately, many plugins help you implement the proper schema markup to your various site pages. If you're not comfortable doing this yourself, you can hire a developer to help you.
Once you've added the schema markup code to your website, test it to ensure it's working properly.
6. Monitor Your Site's PageSpeed
The speed of your website is important for two reasons.
First, fast loading times can help improve your website's search engine optimization. Google has stated that site speed is a ranking factor, so it's important to ensure that your website loads quickly.
Secondly, people are more likely to abandon a website if it takes too long to load, which can hurt your traffic levels.
There are many different ways to improve your website's speed.
One approach is to optimize your images for faster loading times.
You can also minify your CSS and JavaScript files to reduce their size and cache your website's pages to load more quickly for repeat visitors.
Finally, you can use a content delivery network (CDN) to deliver your website's content from servers worldwide, which can help reduce loading times for visitors far from your server.
7. Make Sure Your Site Is Mobile-Friendly
Mobile traffic now accounts for over half of all web traffic, so it's important to ensure that your website is designed for mobile devices.
Mobile-friendly websites are easy to read and navigate on smaller screens, and they're also designed to load quickly. If your website isn't mobile-friendly, you're likely losing a lot of traffic (and potential customers) to your competitors.
One approach to a mobile-friendly site is to use a responsive design, which means that your website will automatically adjust to fit the screen size of the device it's being viewed on. You can also create a separate mobile version of your website that's optimized for smaller screens. Finally, you can use AMP (Accelerated Mobile Pages) to create lightweight versions of your website's pages that load quickly on mobile devices.
8. Improve Your Site's User Experience
Your website's user experience (UX) is important for several reasons.
First, poor UX can hurt your website's search engine optimization. Google has stated that they're looking to improve the search experience for users, which means that they're focusing on factors like website design and user experience.
In addition, people are more likely to visit (and return to) websites that offer a good user experience.
Finally, good UX can help you convert more visitors into customers or leads.
One way to improve your user experience is to ensure that your website is easy to navigate and has a clean and modern design.
Adding search and social media integration features can also improve your website's usability.
Finally, you can use A/B testing to test different design and layout options to see which ones work best for your visitors.
9. Increase Your Social Media Engagement
Social media can be a great way to increase website traffic.
In addition to helping you reach a larger audience, social media engagement can improve your website's search engine optimization.
Google has stated that they're looking at social signals (like social media engagement) when determining how to rank websites in their search results.
There are a few different ways to increase your social media engagement. One approach is to post interesting and engaging content on your social media accounts. You can also run social media ads or use social media influencers to promote your website. Finally, you can use social media plugins or widgets on your website to make it easy for visitors to share your content on their social media accounts.
10. Promote Your Content With Advertising
Paid advertising is a great way to promote your website and its content.
Advertising can help you reach a larger audience, and it can also help improve your website's search engine optimization. Google has stated that they're looking at factors like ad engagement when determining how to rank websites in their search results.
You can use several different types of advertising to promote your website. One approach is display advertising, including banner ads and other visual ads.
You can also use search engine marketing (SEM) to place ads on search engines like Google and Bing.
Finally, you can use social media advertising to place ads on platforms like Facebook and Twitter.
FAQs Related to Increasing Website Traffic
What is considered good website traffic?
Not all website traffic is necessarily good.
In fact, in Google Analytics, your bounce rate is a data point that measures how many site visitors left without engaging with your content or taking an action, such as clicking on a link, making a purchase, or filling out a form.
A high bounce rate indicates that your visitors don't find your website useful for whatever they are looking for and thought they'd find when they chose to visit. This sort of traffic is detrimental to your rankability.
Your objective in attracting visitors to your website is to keep them engaged and interested in whatever your site provides. Follow the abovementioned tactics to increase 'good' traffic to your site.
How can I increase my website traffic for free?
First of all, let's disabuse the notion that anything is free. Everything requires an investment of resources. Either time, energy, and/or money.
That said, there's a difference between paying to increase website traffic or investing in tactics that generate it organically.
If it's the latter, the first nine of the ten tactics we list and explain above are all organic methods (SEO) of generating website traffic 'for free.'
How can I increase my website traffic without SEO?
PPC
Simply put – by paying for it.
Pay-Per-Click advertising allows you to pay for top positions on search engines immediately.
Whether on search engines like Google & Bing, or social media platforms like Instagram, Facebook, and Tik Tok, paid media marketing delivers instant website traffic of interested buyers of your goods and services.
Email Marketing
Another effective way to increase website traffic is by leveraging effective email marketing.
Sharing valuable content and promotions to your email subscribers and linking back to your website will drive up your website visits by your subscriber base and potentially with those they share your content with.
Social Media Marketing
According to Statista, Social media usage is one of the most popular online activities. In 2021, over 4.26 billion people were using social media worldwide, a number projected to increase to almost six billion in 2027.
If your company doesn't have a social media presence, your customers may not know you exist.
Social media marketing is a lot more than just promoting your content.
If you're only going to promote your content, you won't be successful at it.
You have to remember that people primarily go on social media platforms to socialize.
I always tell people to think of social media as dating. If you only talk about yourself, you're not going to get a second date. Therefore, sharing other people's content and engaging with your audience is important.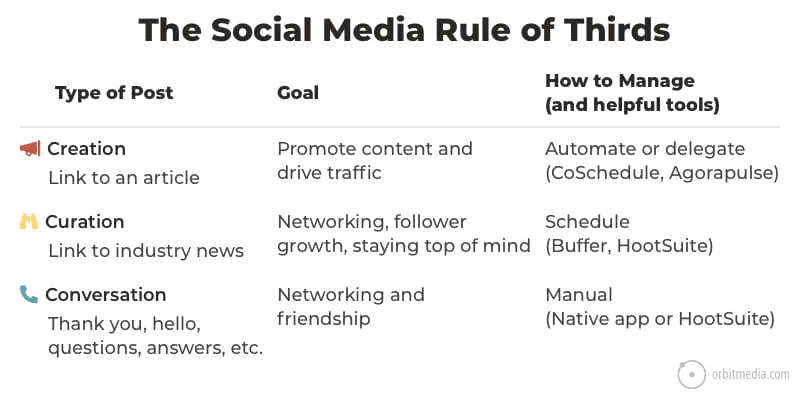 Andy Crestodina of Orbit Media describes and explains a great method of social media management called the Social Media Rule of Thirds. Where you focus on the three main types of social media posts. Creation, Curation, and Conversation.
Done correctly, social media marketing allows your business to become more transparent and build trust and a deeper connection with your target audience.
Pretty soon, your social media efforts will pay off with increased website traffic, leads, and potential clients.
What's the best strategy to increase website traffic quickly?
Implementing a paid search campaign is your best bet if you need to generate interested website visitors immediately. However, you must realize that these visitors are artificially generated and will disappear once you stop paying for your ads.
If your timeline is a bit more forgiving (6-12 months), implementing the SEO tactics discussed above can have sustained long-term results in a relatively short time frame.
Creating high-quality blog content around the topics that matter most to your target audiences and delivering it on a platform optimized for a great user experience will certainly generate sustained results long after the initial investment of resources has paid for itself.
What tips can you suggest on how to increase website traffic organically for a startup?
As a startup, you must realize that no one knows you exist. So brand awareness needs to be top of mind in your marketing strategy. That is typically accomplished through social media, PR, and paid search marketing.
However, you must create a situation where you get sustained organic website traffic.
This requires developing and executing an effective SEO content strategy.
How do you accomplish this?
Alex Vasev recently addressed this question on Twitter. His expert advice is to focus on the fundamentals – and we concur.
1. Do keyword research to find low-competition keyword ranking opportunities
2. Understand search intent of keyword phrases
3. Create unique content to distinguish your company from the pack
4. Implement on-page SEO
https://threadreaderapp.com/thread/1561942174165450753.html
2. Understand Search Intent

There are 4 main types of search intent.

1. Informational
2. Navigational
3. Transactional
4. Commercial

Check out this detailed guide on search intent from Semrush.https://t.co/NpWAjNkyAq

— Alex Vasev | Niche Site Wisdom | SEO Tips & Hacks (@RusToffee) August 23, 2022
4. Implement On-Page SEO

Follow these basic practices:

1. Include the primary keyword in the title
2. Use short URLs (include a keyword)
3. Add keyword-rich H2s & H3s
4. Add 'alt text' to your images
5. Use the primary keyword naturally in content, do not do keyword stuffing.

— Alex Vasev | Niche Site Wisdom | SEO Tips & Hacks (@RusToffee) August 23, 2022
We'd suggest some additional basics to cover.
5. Invest in the fastest and most secure website hosting you can afford, which helps with site speed and rankings.
6. Get an SSL certificate for HTTPS security – many hosting solutions offer this free.
7. Make sure your site architecture is intuitive and your URLs are user-friendly/shareable.
8. Create and submit a sitemap.xml file to the search engines to index your content.
9. Add your website to your industry directories.
10. Share your new content widely. Here is a great checklist and 50 places to distribute your content.
Website traffic will build with the quality of the content and generate backlinks as both build up over time.
Conclusion
There are a lot of different ways to improve your website's traffic.
The methods you choose will depend on your goals and resources. However, some of the most effective methods for increasing traffic include creating high-quality content, optimizing your website for users and search engines, and promoting your content with advertising.
Using the methods enumerated above, you can dramatically increase the number of interested people visiting your website.
If you're looking for a way to increase website traffic, LocalBizGuru can help. We offer various services to help you reach a larger audience and improve your website's search engine optimization. For more information, please contact us today.