6 Internet Marketing Strategies to Take Your Business to the Next Level
A Blog Dedicated to Inform & Educate The Local Business Owner
If you own a small, local business, you might think that internet marketing strategies are important for the big guys on the block, but not for you.  Think again. 
Internet marketing is even more important for small businesses whose customer base is primarily or exclusively local.  Using strategies like local search optimization and social media marketing, small businesses can level the playing field, effectively competing with their large, enterprise counterparts.
Why is Internet Marketing Important For Your Local Business?
Traditional marketing tends to take a scattershot approach—you have little control over who sees your ads and how cost-effective they are.  By targeting consumers who are most likely to buy your products and services, you increase lead generation, conversions, and sales opportunities.
This is how Small Business articulates the importance of internet marketing for companies like yours:
"Internet marketing is important because it aligns with the way consumers make purchasing decisions. Studies by analysts such as Gartner indicate that increasing numbers of consumers use social media and research on mobile Internet to carry out preliminary product and price research before making final decisions. Internet marketing enables you to build relations with customers and prospects through regular, low-cost personalized communication, reflecting the move away from mass marketing."
Does Online Marketing Strategies for Small Businesses Work?
In a word, yes—in fact, a host of studies have demonstrated convincingly that internet marketing not only works—it works much better than traditional (so-called "outbound") marketing strategies.  Consider, for example, these metrics from HubSpot:
More than 70% of consumers who did a local internet search visited a local store that same day
Marketers with a content marketing strategy are 13X more likely to see a positive return on investment (ROI) compared to those who don't
Almost 75% of Facebook users say they go to the social media giant "for professional purposes"
Product videos on average increase sales by 144%
Businesses that use marketing automation for lead generation increase net revenues by 10% in the first 6 months
On average, businesses that leverage pay-per-click (PPC) advertising earn $2 for every $1 they spend
6 Internet Marketing Strategies to Improve your Web Presence.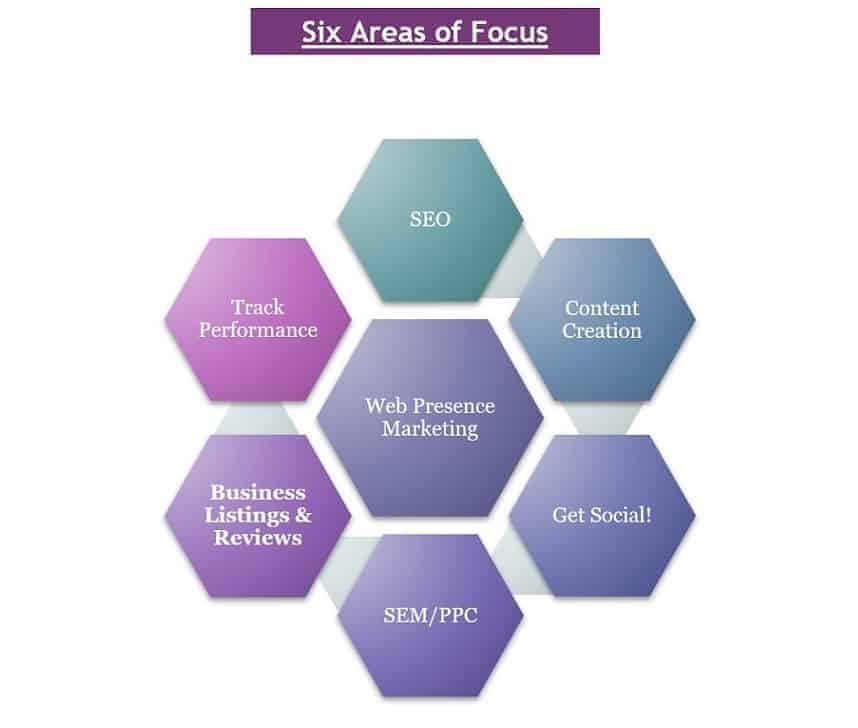 Every business is different, with different goals and different marketing challenges–and you know better than anyone which is most important for your business.  That said, if you need to improve your digital presences, the following 6 internet marketing strategies should be implemented:
1.  Search Engine Optimization (SEO)
Effectively leveraging SEO means many things, from choosing the right keywords to creating valuable content, understanding search intent and having strong links to your website.  For local businesses, however, it means, more than anything else, understanding how local search works.
Google provides valuable tools to make your local search strategy more effective.  For example, it offers  Google My Business, a powerful online marketing tool, to increase your visibility and reach in your local community. It also enables you to use keywords that are focused on local searchers (such as those which include the name of your town or "near me"). Using these and similar tools and tactics will help you capture the attention of local customers interested in your products and services.
2.  Content Marketing
A lot has been written about content marketing, most of it about just how effective this strategy is (one of the reasons "content is king" has become a mantra for digital marketers). The power of content marketing is in its way of "pulling" likely customers to a business with valuable content (in the form of blogs, eBooks, white papers, case studies, videos, and podcasts) rather than "pushing" (often intrusive) sales ads at them.
Think of it this way. Say you're looking for a used car on the internet. One search result takes you to a page with scores of used cars, each with requisite photo, description, and price.  Another takes you to an article, "How to negotiate with a used car dealer to get a lower price."  Now, that's something you're interested in because it solves a problem for you. Which business are you more likely to trust, and which are you more likely to buy your next car from?
To get the full value of content marketing, you can ask prospects to provide their email address in exchange for the content they want to view. If the content is strong, it will produce a steady stream of new, quality leads to fuel your sales funnel.
3.  Social Media Marketing
You can't engage prospective customers for your business if you don't meet them where they are. Increasingly, they are on social media sites like Facebook, Twitter, Instagram, LinkedIn, YouTube, Pinterest, and Snapchat.  They're not only on those sites to share funny kitten videos or treasured family recipes. They're also there looking for information about products they want to buy.
Effectively engaging with your target audiences on social media, will improve your chances of standing out from the crowd.
Social media sites understand this and so provide businesses with effective tools to help marketers succeed on their platforms.  For example, marketers on Facebook can use that site's wealth of data (including what users "like") to precisely target consumers who are looking for products they sell.
4.  Pay-Per-Click (PPC) Advertising
Although PPC is available on many search engines—not to mention social media sites like Facebook—generally when marketers talk "PPC," they're talking about Google Ads.  As noted above, this can be an enormously effective (and cost-effective) strategy for local businesses.
But the fact is, it can also be complicated.  You need to know how to choose keywords that are most relevant to your products and services. You also need to know how to capture "search intent" (in other words, if you're a dog groomer and use "dog grooming" as a keyword, you'll get people whose intent is learning to groom their dog themselves—not use your services).
You'll also need to know how to use negative keywords and ad extensions to get the best results. Said differently, unless someone on your team has deep experience in PPC advertising, your best bet is to work with a competent internet marketing agency.
5.  Customer Reviews
Studies show that consumers trust the customer reviews they read online as much as recommendations from friends and family. The more positive reviews you post, the more likely they are to buy your products or subscribe to your services.
Although you can't control what your customers say about you (and you should never post fake reviews!), you can employ effective strategies to increase positive reviews.
One of the best ways to do that is by simply asking satisfied customers to leave a review. Provided you simplify the process, you'll be surprised how many will do so!
6.  Measure Results For Continual Improvement
No internet marketing campaign is perfect out of the gates. Each includes strategies that work—and some that don't work quite as well.  That's why you need to measure the performance of every aspect of every campaign.
The first step is to establish clear, realistic, and measurable goals before you launch your campaign. Examples include metrics, like "increase leads by 25%" or "boost conversions by 10%".
You then need to rigorously measure progress towards each of your goals.  When you see something that's under-performing, you need to tweak or eliminate it.  In this way, you continually improve performance and reach your goals more quickly.
Finally, you should employ a strong analytics platform (Google Analytics is one of the best—and it's free). The insights your small business derives from analytics data will tell you which web pages and content are working—and which aren't.
In Conclusion
The benefits of internet marketing for small, local businesses like yours are demonstrable—and frequently dramatic. When you do it right, you can ramp up lead generation, polish your brand, increase conversions, and boost sales. However, it can be confusing, especially if this is your first go at it.  Fortunately, there are experienced internet marketing agencies who can give you the advice and guidance you need to succeed.
To learn more about the ways our full array of internet marketing services can take your small business to the next level, contact us today.