LocalBizGuru Announced as a Best of 2021 Award Winner by UpCity!
A Blog Dedicated to Inform & Educate The Local Business Owner
LocalBizGuru Announced as a 2021 Best of Creative & Design, Development, and Marketing & Advertising Award Winner by UpCity!
This year marks the inaugural UpCity "Best of" awards honoring the top providers around the world in specific service categories based on their Recommendability Rating.
The UpCity Recommendability Rating was developed to determine a B2B service provider's credibility and trustworthiness, giving UpCity the confidence to recommend them to those businesses seeking services. 
We are thrilled to announce that LocalBizGuru has been recognized as a Best of Creative & Design, Development, and Marketing & Advertising award winner by UpCity!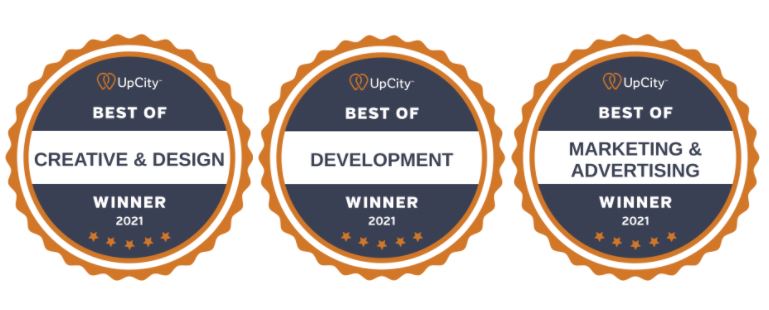 UpCity is a resource that helps connect businesses to service providers they can trust. With more than 70,000 listed providers—from marketing agencies to accounting firms to HR consultants to IT specialists and many more—nearly 2 million businesses (and counting) have visited UpCity to research and identify the best partner for their needs.
Mark Tepper, SVP of Sales & Customer Success at UpCity, had this to say about LocalBizGuru:
"I want to congratulate LocalBizGuru on providing such exceptional service. When it comes to digital marketing solutions, they don't just talk a great game, they get results. Really, there isn't anything more that customers need when it comes to marketing. Just having a company like LocalBizGuru makes all the difference."

– Mark Tepper, UpCity SVP of Sales & Customer Success
Driven By Our 5-Star Review Rating
This honor has been driven in large part by our 5-star review rating on UpCity.
Here are some of our favorite pieces of feedback we've received from our incredible customers:
"I needed to add some information to a client's website. It was important to me to make sure that what I was adding would be read by a substantial amount of readers. I contacted Nachum, and he helped me and taught me a great deal about SEO. Besides being brilliant and savvy Nachum is kind and patient – a real joy to work with. Any company that hires him is lucky, indeed!"
"LocalBizGuru is highly capable and professionally conscientious. They know how to generate traffic to a company's website. Highly recommended."
Thank You For The Recognition
We want to thank UpCity, as well as our clients who helped make this all possible.
These awesome awards mean a lot to us! That is why our commitment to great service will continue to be our top priority.