LocalBizGuru Announced as a 2022 National & Local Excellence Award Winner by UpCity!
A Blog Dedicated to Inform & Educate The Local Business Owner
LocalBizGuru Recognized as a
2022 National & Local Excellence Award Winner
For more than a decade, UpCity's mission has been – and continues to be – to help businesses find B2B service providers they can trust.
The UpCity Recommendability Rating was developed to determine a service provider's credibility and recommendability, giving UpCity the confidence to recommend them to the more than 2 million businesses that visit their site.
What is an Upcity Excellence Award?
Each year, UpCity analyzes and scores more than 70,000 service providers based on their UpCity Recommendability Rating and acknowledges the top national and local providers with an UpCity Excellence Award.
The results are in, and we won!
We are proud to announce that LocalBizGuru has been recognized as not only one of the best B2B service providers of 2022 in the Cleveland area but also one of the top B2B providers in the United States by UpCity!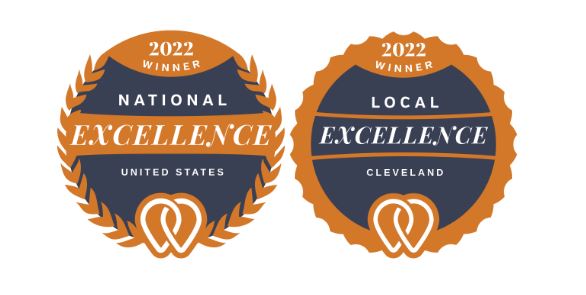 Dan Olson, Founder & CEO, of UpCity, had this to say about LocalBizGuru:
"The LocalBizGuru team is one that clearly stands by their clients every step of the way. A quick look at their reviews tells you all you need to know; this group creates an unmatched customer experience. Congratulations on winning a National and Local Excellence Award!"

– Dan Olson, Founder & CEO, UpCity
Excellence Award Driven in Part By Our 5-Star Review Rating
This recognition has been driven in large part by our 5-star review rating on UpCity.
Here are a few of our favorite pieces of feedback we've received from our incredible customers:
"LocalBizGuru know there stuff and are able to implement a strategy with immediate results the provide measurable and an efficient means to communicate. They provide user friendly reports that can help you to accurately make wise decision on how to market your company Nooch and Aaron are my guys thanks for your help in helping grow our business."
"I needed to add some information to a client's website. It was important to me to make sure that what I was adding would be read by a substantial amount of readers. I contacted Nachum, and he helped me and taught me a great deal about SEO. Besides being brilliant and savvy Nachum is kind and patient – a real joy to work with. Any company that hires him is lucky, indeed!"
Highly recommend! We used LocalBizGuru for all of our startup marketing needs from logo and brochure design to building, optimizing, and hosting our website, and for our Google ads campaign. We could not be more impressed with the quality of their work and communication and their commitment to taking care of their customers. They were a pleasure to deal with throughout the entire process, and our final products were even better than we could have imagined.
Thank you to UpCity for this honor, and thank you to our clients who have put their trust in us over the years. Here's to even greater success ahead!
Learn more about the UpCity Excellence Awards.