4 Ways to Get More Customer Reviews for Your Brand
A Blog Dedicated to Inform & Educate The Local Business Owner
How many online customer reviews does your business have? 84% of people trust online reviews as much as they trust references from their friends. If your business doesn't have online reviews, then it is time you start proactively pursuing them.
Customer reviews will help you gain new business by improving your local online visibility and will also help build your brand's reputation.
Here's how you can increase the number of reviews your business has.
Claim Your Listings
If you are a local business, it isn't enough to have a listing on Google and Facebook. You need to claim your business' online listings on other websites. This will give your business a larger online footprint.
Having a collection of places for reviews makes it easier for customers to leave one. If someone regularly uses a specific site, then they are more likely to write one there.
Some important review listings sites include the Better Business Bureau, Yelp, and Foursquare.
It's important to claim listings specific to your niche and industry as well. These sites tend to rank very well for local top-10 lists, so having your profile claimed, featuring customer reviews goes a long way to help you rank better in general and on their platforms as well.
Create a Review Funnel
You probably already have a funnel in place to channel potential customers to purchase. Use the same strategies to funnel your customers into leaving a review.
When you use a review generation and management solution, they can create this funnel for you. They will unobtrusively ask your customers to leave a review.
The good thing about this is you can funnel customers to the sites where you want reviews. By driving customers to a single conversion point, you can target the sites where you need to beef up reviews.
Generate a Direct Review Link
If you can't afford to invest in a complete reputation management service, at the very least design and implement your own basic version.
The simplest way is to select the review platform of choice and get the link directly to your company page. Ideally to the 'leave a review' section.
In fact, the most important profile – Google Business Profile – does this for you.
Simply access your GBP dashboard by Googling your business name.
Your profile dashboard should look something like this.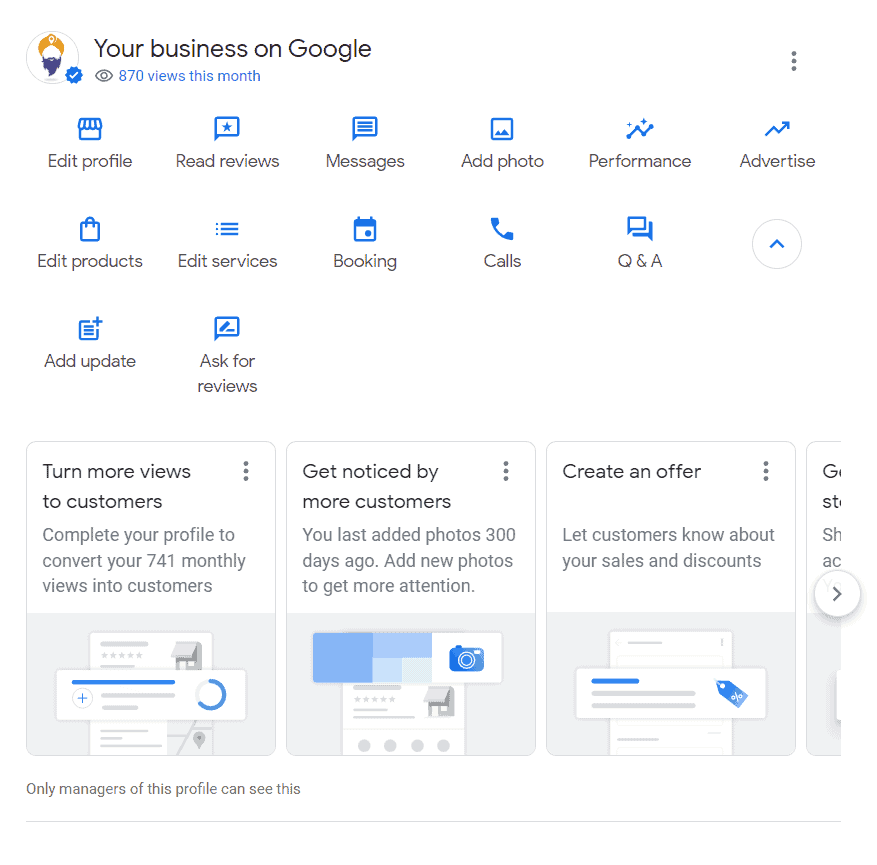 Provided it's been created and verified, you can Simply click the 'Ask for reviews' icon to access and share this link with clients and customers.
This links directly to the review section of your GBP profile, eliminating the possibility of confusion when you ask people to leave you a review.
Armed with this link, you can send it and share it with all current and past satisfied clients via email, Facebook, WhatsApp, or Twitter, and watch your positive customer reviews roll in!
Target Happy Customers
You can increase the number and quality of your reviews by focusing your efforts on happy customers. Don't generically ask everyone to leave a review. First, filter your request by asking how satisfied the customer is.
Happy customers will then receive a request to leave a review. Unhappy customers can be sent through a different funnel. This will give you a second chance at those customers who were less than impressed with your product or service.
Having a two-step process like this will increase the number of positive reviews for your company.
Ask Right Away
Don't wait to ask customers for a review. You need to do it when their experience is still fresh in their mind. The longer you wait, the less likely someone is going to leave a review because their emotional connection has diminished.
This will also keep your reviews fresh. You need recent reviews as 85% of consumers think that local reviews that are older than three months are no longer relevant.
Increase Your Customer Reviews
Creating an actionable plan to gain more customer reviews requires dedication and commitment. Instead of trying to manage this task on your own, you can hire experts to take it on.
LocalBizGuru can help you with gaining more customer reviews. That way, you can focus on providing quality service to your customers.
Request a call today and speak to one of our Digital Marketing Gurus to create a plan for getting more customer reviews today.