8 Essential Strategies to Optimize Your Google Business Profile
A Blog Dedicated to Inform & Educate The Local Business Owner
If you own a local business – especially one that's trying to increase influence and exposure in your local market – you're always looking for effective marketing strategies to put yourself in front of prospective customers who are most likely to use your products and services.
Unfortunately, many companies overlook one of the most potent tools to achieve this and other core business objectives:  a Google Business Profile.
What is a Google Business Profile?
A Google Business Profile (formerly Google My Business) is a free Google tool that lets you directly influence the way local consumers connect with your business online and substantially improve your local SEO.
That's important because about half of all consumers who conduct local searches (things like "restaurants near me") visit a store that same day.
As HubSpot notes, a Google Business Profile will help you manage the way local consumers see you in Google Search and Maps, including things like your business name, location, and hours.  It also helps you monitor and respond to customer reviews.
Simply stated, if you're new to local SEO, your GBP listing is probably the best place to start.
Why Is GBP So Important For Your Local Business?
In the first place, if your business is primarily or exclusively local, you need to find effective strategies to advance your local SEO.
Why?  Because most people find local businesses through local searches.
Second, your Google Business Profile can substantially increase the power of your local SEO.
Consider, for example, these metrics from HubSpot:
Almost half of all Google searches are seeking local business information
Approximately 72% of consumers who do a local search will visit a local business within 5 miles of their homes
More than 97% of consumers learn more about local businesses online than through any other source
88% of consumers who do online searches for local businesses on smartphones either call or visit that business within 24 hours of the search
Google Business Profile accounts for about 36% of your local SEO search ranking—more than links or reviews on on-page SEO strategies
How do I find my Google Business Profile?
In order to add or claim your free GBP, follow these steps outlined by Google here:
Add your business through Google Maps

On your computer, sign in to Google Maps.
You can add your business in 3 ways:

Enter your address in the search bar. On the left, in the Business Profile, click Add your business.
Right-click anywhere on the map. Then, click Add your business.
In the top left, click Menu  Add your business.

Follow the on-screen instructions to finish signing up for your Business Profile.

Claim your business through Google Maps

On your computer, open Google Maps.
In the search bar, enter the business name.
Click the business name and choose the correct one.
Click Claim this business   Manage now.

To choose a different business, click I own or manage another business.

Select a verification option, and follow the on-screen steps.
8 Best Practice Strategies To Optimize Your Google Business Profile
Optimizing your Google Business Profile is one of the best ways to increase your influence and success in your local market.  As Bright Local notes:
Simply put, every business needs a Google My Business listing. It offers a wealth of business information to Google and local consumers and offers a rich local search presence.

The details you provide in your Google My Business profile are used in a number of different ways by the search engine, from populating the highly visible knowledge panel which appears to the right of the search results and filling out the local pack to populating Google Maps, providing voice search results and assisting with Google app search results.
Equally important, optimizing your profile isn't rocket science.
There are several smart strategies you can leverage to make your Google Business Profile stronger and more influential, including the following eight:
Get the NAP on your Google Business Profile correct:
NAP is short for the Name, Address, and Phone Number of your business, and getting it right is crucial to optimizing your profile.
That sounds simple, but remember that your business changes over time and has possibly had different addresses or numbers in the past.
You need to make sure that all your online business citations are consistent with the ones you include as part of your GBP.
Pick the correct primary category and subcategory:
This is an important component of local SEO, so you need to get it right.
For example, if you sell pizza, you might choose "pizza restaurant" as your category so that people looking for "pizza" or "pizza restaurants" can find your business in local searches.
The subcategory is also important, especially if your business does more than one thing.  For example, you might have a supermarket that includes a pharmacy, in which case "supermarket" would be your category and "pharmacy" would be your subcategory.
Selecting the correct category and subcategories can often be the deciding factor in you outranking the competition.
*Pro Tip* 
Use the PlePer Tools Google Business Profile Categories Full List to find the best match for your primary and secondary categories.
Write a compelling business description:
Google gives you 750 characters to describe your business, so you need to make them count.  Don't include a promotional talk in your description (Google doesn't allow that) but do tell people about your products and services and what's unique about what you do.
It's also a good idea to include something about your company's mission and history.
Use photos to your advantage:
Google gives you lots of options for the photos included in your profile.
You can use both interior and exterior shots of your business, as well as 360-degree views.  The photos you choose are important because 60% of local shoppers say local search results with strong images capture their attention.
According to Google, businesses with photos receive 42% more requests for driving directions to their location from users on Google, and 35% more clicks through to their websites than businesses that don't have photos.
The best practice is at least 3 images each of your exterior, your interior, your team, and the products you sell.
In fact, new research shows a very strong link between Google Business Profile photo quantity and search performance. To wit:  The research found that businesses with more than 100 images on GBP get 520% more calls, 2717% more direction requests, and 1,065% more website clicks than the average business!
Monitor and respond to reviews:
The reviews that prospective customers see are important.
On average, consumers read at least 10 reviews before they trust a business – and they trust these reviews more than word of mouth from friends and family!
So, it's not enough to wait for customers to write reviews. You need to be proactive with a consistent process to request them.
You also need to monitor and respond to those reviews – for example, a policy of simply thanking customers who leave positive reviews.
Fill out your products and services
Currently, one of the more visible elements of a properly optimized GBP is the products section.
Even if you are a business that doesn't sell products, and only provides services, because of its visibility you will want to fill these out.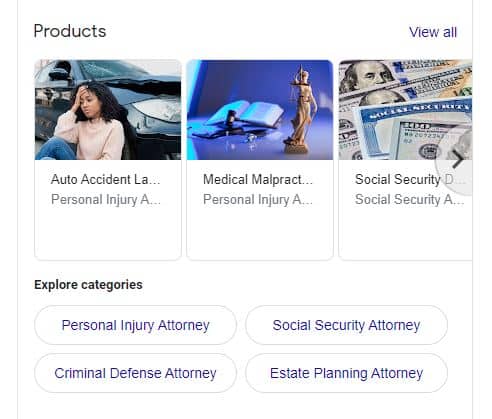 Google arranges your products in a carousel-like design which will definitely help drive more views, calls, and sales.
You are able to categorize and add images, descriptions, and calls to action to these product profiles so leverage them to your advantage.
* Pro Tips * 
The last product you enter is the first to be featured, so make sure you organize your products accordingly.
You can add GIFs as your Product image! Just save your GIF and rename it as a JPEG.
Publish posts regularly:
Posts within your Google Business Profile are essentially mini-blogs that give consumers important information and updates about your business.
More importantly, posting to your profile does two things for your local SEO.
It feeds the important keywords and phrases vital to your business directly to the AI of Google's algorithm. Building the crucial association of your goods and services with your business.
Regular posting drives up engagement. Google measures how much you as a business owner engage with your profile. The more you, as a business, engage with your profile, the more seriously Google takes your business.
Good posts will increase your visibility and rankings in local searches—and they can be highly influential in a customer choosing your business over one of your competitors.
Optimize your Google Business Profile Q&A:
The Q&A feature of your profile can be enormously helpful to your business, but you need to make it work for you.
Google gives you the ability to create a storehouse of both questions and answers within your profile.
This is to ensure that the answers consumers get are the ones you want them to. 
However, like many elements of your Google Business Profile, regular people off the street can contribute to and influence how your business is perceived online.
Use the customer data you have to make sure you include the right questions—and the best answers.
By seeding the important questions and responding to them yourself, you can actually have more control over the narrative and the perception of your business.
FAQ's
Let's finish things off by answering some of the most frequently asked questions about your Google Business Profile and how to optimize it.
What is the difference between Google My Business and Google Business Profile?
Practically speaking, for the small business owner, there is none. Google My Business has been renamed but provides the same benefits for businesses dependent on local clientele.
So what was once a Google My Business strategy is now a Google Business Profile strategy.
Is Google Business Profile free?
Yes.  Using and maintaining your GBP is absolutely free. Simply add/claim and verify your listing to start optimizing and leveraging all the benefits your profile offers.
How do I get a Google business profile?
Very often, if your business is known to Google, a profile will already exist. All you need to do now is to claim and verify it.
If you can't find your business profile when Googling it, you need to set it up from scratch.
To do this, follow the 11 steps found in this informative Google post on How to sign up for Business Profile.
How do I verify my profile?
According to Google, you can verify your profile by phone, text, email, or video.
The available methods depend on things like your business category, public info, region, support hours, and volumes. You may need to verify with more than one method.
For detailed instructions, see their informative post here.
Where do I manage my Google profile?
Even before your profile is verified, you can access and manage your GBP directly on Google search or via the Google Maps App.
Simply Google your business name and your profile should appear.
However, your updated edits will not be published until the profile is verified.
Here is a detailed post from Google on how to manage your profile directly in search or the maps app.
How do I get more reviews on my profile?
Getting reviews can be a challenge for many business owners, especially if the services they provide don't lend themselves to getting reviews published. (Like medical practitioners and therapists whose patients don't want to publicize their private matters).
But even if it's not that type of business, getting people to leave a review can be difficult.
Fortunately, Google made it super simple to generate more reviews by sharing your dedicated review link.


Simply click the 'Ask for reviews' icon to access and share this link with clients and customers.
For more detailed review generation tips and tactics, check out our blog on the subject.
Apply These Google Business Profile Tips For Improved Local Visibility
Previously, we've discussed and put together a 10-point Local SEO Checklist to get your business ranking at the top of local search results pages.
How to optimize your Google Business Profile is right at the top of that list.
These Google Business Profile best practices are just some of the ways you can optimize your Google Business Profile, and in the process, increase your exposure and influence in your local market.
Although the GBP optimization process (as noted above) isn't rocket science, it can be complicated and confusing, especially if this is your first go at it.  Fortunately, there are experienced agencies that specialize in local search strategies and can help.
To learn more about the ways our local SEO, and Google Business Profile optimization services can help your business rise to the top of local searches to help your business grow, contact us today.